THANK YOU TO THE ~400 WHO RODE WITH US IN 2022!  YOU MADE IT FUN!
MARK YOUR CALENDARS! 
LET'S DO IT AGAIN IN 2023!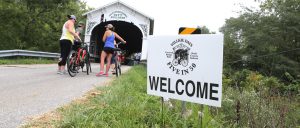 OFFICIAL TRAINING RIDE

Where do the proceeds from the "Five in 50" go?
Money raised by the "Five in 50" will be split between the preservation of Rush County's Covered Bridges, other historic sites, and organizations supported by The Rush County United Fund (RCUF).
Founded in 1958, the RCUF supports and serves nine local non-profit agencies in Rush County.
SALVATION ARMY OF RUSH COUNTY
BOYS & GIRLS CLUBS OF RUSH COUNTY
CHANGING FOOTPRINTS
M.O.R.E. FOR KIDS
RUSH COUNTY VICTIM'S ASSOCIATION
RUSH COUNTY COMMUNITY ASSISTANCE
RUSH COUNTY SENIOR CITIZENS SERVICES, INC.
For more information visit https://www.rcuf.org/our-agencies
Which distance should I choose?
Riding the full 50 miles takes training. If you haven't trained appropriately, consider the 12 or 24-mile routes.
How long does the ride take?
The full 50 miles takes between 2.5 hours for elite riders to 5.5 hours for the slowest riders.
It will take an average rider between 3.5 and 4.5 hours.
What happens if it is raining?
The ride will be held rain or shine. Rush County Emergency Management will make the call if the ride cannot be held because of weather (lightning, high winds, etc.).
Unfortunately, if the ride is canceled, we will not be offering refunds.
Will there be food, water, restrooms on the course?
The Five in 50 has seven SAG (Supply & Gear) Stops that have water, food, bathroom facilities and limited tools and bicycle pumps.
In case of an emergency, an emergency contact number will be provided at the beginning of the ride.
A trailing vehicle will ensure that everyone gets back safely.
Are helmets required?
A CPSC or SNELL-approved helmet is required to be worn by all riders whenever their bike is in motion. 
Can children participate?
Minors may participate but must be accompanied by an adult.   Helmets are required.
WHAT?
The event is designed as a tourism opportunity to promote local businesses while encouraging active living and physical fitness in Rush County. The ride will showcase the beauty of Rush County and its historic covered bridges.
WHERE?
The fourth annual Five in 50 starts in Rushville and includes 12-mile, 24-mile, and 50-mile routes. The 50-mile route will take bicycle riders through five historic covered bridges and five additional Rush County towns (Milroy, Moscow, Gowdy, Homer, and Arlington).
WHY?
Proceeds from the ride will be directed to the Rush County United Fund https://www.rcuf.org and for the preservation of the Rush County Covered Bridges and other historical sites.
 WILLKIE
The "FIVE in 50" is the brainchild of David Willkie, as a way to honor his late mother, Virginia, who was an avid Rush County bicyclist. The grandson of Wendell Willkie, David is the principal of Willkie Ventures, a specialty finance company based in Rushville. He is a former staff member for former U.S. Senator Richard G. Lugar. David is an endurance athlete and bicyclist
WHEN?
Willkie Days Parade – 9:45 am. 
Beat The Heat – 8am.  Roads will be marked and restroom facilities will be available, but SAG stops will not be fully staffed until after the parade start at 10am.  
Registration opens at 6:30am
Support and Gear (SAG) stops will be located in each town on the 50-mile route as well as at each covered bridge
WOOHOO!
Following the ride, participants and guests are invited to attend the FREE "Live at the Levee" concert at the Rushville Riverside Park Amphitheater.
Community members are invited to cheer on riders throughout the course, and riders will have the opportunity to vote on the town that demonstrates the best of Rush County hospitality after the ride.
2022 Ride Sponsors
Please show them some 💖