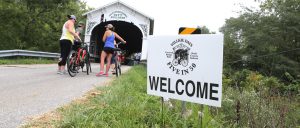 WHERE
Registration/Start/Finish Line
Rushville Elementary School
400 W 16th St.
Rushville, IN 46173
The 50 mile route takes bicycle riders through the heart of Rushville before going through five additional Rush County towns (Milroy, Moscow, Gowdy, Homer, and Arlington).
WHEN – Start time
6:30 am – Registration Opens
Seven "Support and Gear" (SAG) stops in each town and bridge on the 50+-mile route will open after the Willkie Days Parade Start.
8 am – Beat the Heat Start
9:45 am. – Willkie Days Parade Start
Standard start time. Lead off the Willkie Days Parade with a full police escort. Spectators will be given cowbells to make you feel like you are the peloton of the Tour de France. (Not really, but it is fun. And seriously, who doesn't need more cowbell!!!)
Get out early and finish early. Roads will be marked and restroom facilities will be available, but SAG stops will not be fully staffed until after the parade start at 10 am.
Where do the proceeds from the "Five in 50" go?
Money raised by the "Five in 50" will be split between the preservation of Rush County's Covered Bridges, other historic sites, and organizations supported by The Rush County United Fund (RCUF).
Founded in 1958, the RCUF supports and serves these local non-profit agencies in Rush County.
SALVATION ARMY OF RUSH COUNTY
CHANGING FOOTPRINTS
M.O.R.E. FOR KIDS
RUSH COUNTY VICTIM'S ASSOCIATION
RUSH COUNTY COMMUNITY ASSISTANCE
RUSH COUNTY SENIOR CITIZENS SERVICES, INC.
For more information visit https://www.rcuf.org/our-agencies
Which distance should I choose?
Riding the full 50 miles takes training. If you haven't trained appropriately, consider the 12 or 24-mile routes.
How long does the ride take?
The full ~52 miles takes between 2.5 hours for elite riders to 5.5 hours for the slowest riders.
It will take an average rider between 3.5 and 4.5 hours.
What happens if it is raining?
The ride will be held rain or shine. Rush County Emergency Management will make the call if the ride cannot be held because of weather (lightning, high winds, etc.).
Unfortunately, if the ride is canceled, we will not be offering refunds.
Will there be food, water, restrooms on the course?
The Five in 50 has seven SAG (Supply & Gear) Stops that have water, food, bathroom facilities and limited tools and bicycle pumps.
In case of an emergency, an emergency contact number will be provided at the beginning of the ride.
A trailing vehicle will ensure that everyone gets back safely.
Will there be showers at the end of the ride?
Yes, there are men's and women's showers available in the elementary school at the finish.
Soap and shampoo will be provided. Bring your own towels. A limited number of towels will be available if you forget.
Are helmets required?
A CPSC or SNELL-approved helmet is required to be worn by all riders whenever their bike is in motion. 
Can children participate?
Minors may participate but must be accompanied by an adult.   Helmets are required.
WHAT
The sixth annual "Five in 50" is a bicycle ride that goes through five rural Indiana towns, bucolic countryside, and five historic covered bridges in 50 miles (total distance is approximately 52 miles with the first 2 miles being part of a slower parade starting through downtown Rushville). Shorter 12 and 24 mile routes are also available.
The "Five in 50" is NOT a timed race. However, we do have several "Strava segments" that give riders the ability to compete against the clock and other riders.
2 mile – "Sprint to Moscow"
2.9 mile – "Sprint from Milroy"
4.1-mile – "Sprint to Arlington"
POST RIDE
Following the ride, participants vote for their favorite SAG stop. Old-school basketball rivalries die hard in these parts. Each town will be vying for your "Best SAG" vote. Let them work for you and know that we think you are worth it.
After your vote, you will be enjoying a local BLT sandwich with bacon from Gettinger Family Meats and Ice Cream from BRICS (Broad Ripple Ice Cream Station) in Indianapolis. You earned it!!
POST POST RIDE
7 PM – free "Live by the Levee" concert
Bring your lawn chair and enjoy an evening under the stars.
WHY
Proceeds from the ride will be directed to the Rush County United Fund  and for the preservation of the Rush County Covered Bridges and other historical sites.
WILLKIE
The "FIVE in 50" is the brainchild of David Willkie, as a way to honor his late mother, Virginia, who was an avid Rush County bicyclist. The grandson of Wendell Willkie, David is the principal of Willkie Ventures, a specialty finance company based in Rushville. He is a former staff member for former U.S. Senator Richard G. Lugar. David is an endurance athlete and bicyclist. David is also the proud grandson of 1940 Presidential Candidate Wendell Willkie who is buried in East Hill Cemetery just east of Rushville on SR 44.